Memorial Day
Most likely you're already aware of the close tie between the American Civil War and the origin of Memorial Day. It was three years after the war ended, on May 5th, 1868, when the Grand Army of the Republic established "Decoration Day" as "a time for the nation to decorate the graves of fallen soldiers with flowers. Today, the call for remembrance not only continues, but has expanded in its observances. The National Moment of Remembrance encourages all Americans to pause wherever they are at 3 p.m. local time on Memorial Day for a minute of silence to remember and honor those who have died in service to the nation. As Moment of Remembrance founder Carmella LaSpada states: "It's a way we can all help put the memorial back in Memorial Day." (Source: Veterans Administration).
Rather than dwell on this annual day of appreciation and acknowledgement, we like to tighten our focus on the ritual playing of "Taps", a mournful melody played on the bugle at the conclusion of a military funeral. The melody we know today as "Taps" is believed to be a revision to the original tune – a French bugle signal called "Tattoo". The changes were made in 1862, by Union General Daniel Adams Butterfield.
The first time taps was played at a military funeral may also have been in Virginia soon after Butterfield made those changes, when Union Captain John Tidball ordered it played for the burial of a cannoneer killed in action. Ten months later, it was played at the funeral of Confederate General Stonewall Jackson on May 12, 1863.
One Man's Story
Made up of just 24 notes, today "Taps" is recognized around the world as a powerful expression of honor for the deceased. The same was true in 1945, when Harrison Wright was given the duty of playing the then 82-year old song.
Harrison was drafted in early 1943 at the age of 18 and soon after deployed to Europe. Because of his high school musical training, in addition to his regular duties, he was assigned to play the bugle in his unit.
Wright was a member of the 227th Battalion, which followed other divisions and furnished them with soldiers after large and costly battles. During the war, as he served in England, France, Belgium and Germany, he participated in dozens of funerals for men killed in action. "If a young man is killed in action or dies defending his country, you blow taps over his grave," Wright told his grandson Sean Guess, in a Story Corps recording. "And it just—there's no way to describe it, the emotion that you feel, knowing that those notes (are) going out."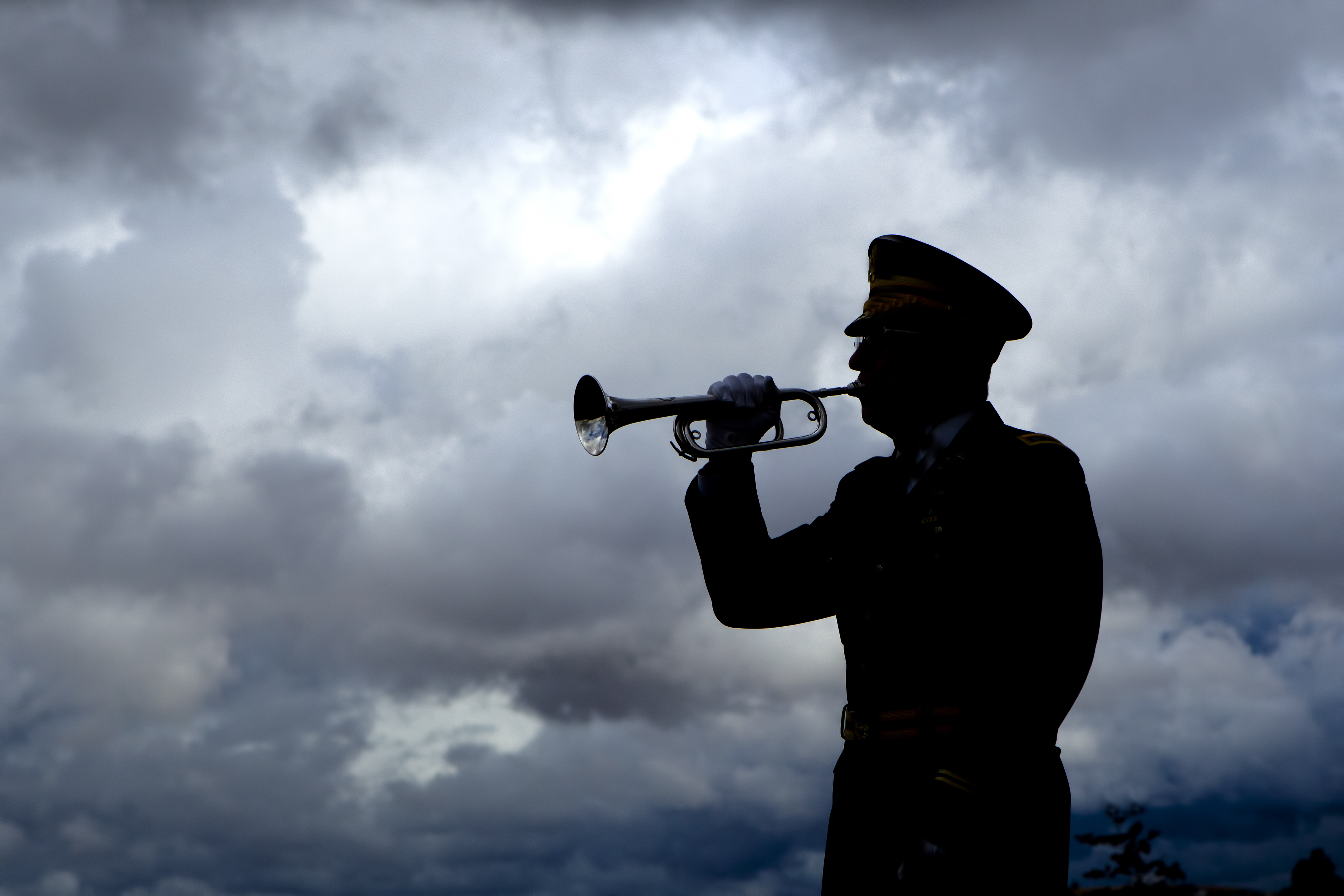 At the end of the war he was called upon for a special assignment. At that time, Wright and his battalion were in Belgium. "I remember the war was over just a few days," he says, "and they asked me to blow taps for all who died in the war."
He recalled the moment vividly. "We climbed this high hill. It was like a mountaintop. And my battalion was at the bottom. I blew those notes... "Taps"...and, when I did…the men said it…floated out across all that valley. And said it was beautiful. They were all telling me how good it sounded and what a tribute it was, to our fallen comrades."
The Tradition Finds a New Source of Inspiration
The playing of "Taps" at military funeral ceremonies became regulation by 1891. Unfortunately, learning to play the bugle has declined in popularity and today, most veteran's funeral ceremonies feature recordings of this traditional song of farewell. Yet there are those who want that to change. Katie Prior, from Oklahoma City, Oklahoma, works to bring high school musicians to funerals when a professional military bugler is not available.
She was inspired to learn "Taps" after her great-grandfather, a World War II veteran, died. When she was unable to master the notes in time for his funeral, an audio recording was played instead.
Today, her non-profit, the Youth Trumpet and Taps Corps, now has a team of 45 volunteers in six different states who help train high school students to play taps and other patriotic songs. She hopes one day to have a volunteer taps player in every state.
When "Taps" are sounded at a military funeral, the bugler is representing the country in saying farewell to someone who has served. Certainly the rendition played by Harrison Wright on the European "mountain top" he described echoed the sentiments of thousands of people around the world. He had, indeed, used his gift to serve the community of beleaguered and weary soldiers around him. It was an amazing opportunity for him to do something he loved while serving others so caught up in loss and grief.
Is There a Story You'd Like to Share with the World? Investigate StoryCorps
Every life is a story - a collection of stories, really - and each is worth recording. But StoryCorps is more than an archive of personal experiences; founded in 2003, StoryCorps' mission "is to preserve and share humanity's stories in order to build connections between people and create a more just and compassionate world." In the past 13 years, StoryCorps "has collected more than 60,000 interviews with over 100,000 participants from all backgrounds–the largest single collection of human voices ever gathered." Certainly, that's a lofty and ambitious mission; but wouldn't it feel rewarding to be a part of it? If you agree – or would just like to listen to a few stories–visit StoryCorps today.